Central Nervous System
Base of Skull | Brain (Glioma and Pituitary) | Spinal Cord
Our Central Nervous System Program is specialized in treating neuro-oncological tumors and base-of-skull tumors with advanced radiation therapies, including proton therapy. We provide comprehensive expertise in clinical care for both benign and malignant diseases affecting the brain and spine.
Our multi-disciplinary approach
We discuss patients in the Central Nervous System Program in several weekly multi-disciplinary team meetings: neuro-oncology, base-of-skull and pituitary. These meetings are attended by specialists from the departments of radiotherapy, neurology, neurosurgery, medical oncology, endocrinology, ENT, pathology and radiology. For each patient, the teams determine the best treatment approach as well as possible inclusion in a clinical trial. If necessary, additional imaging and other diagnostics may be requested.
We offer the most modern radiotherapy treatment techniques available such as IMRT, VMAT, stereotactic treatments using the Novalis system, and proton therapy. To determine the exact location and shape of the tumor and surrounding healthy tissues, we acquire CT and MRI images and, for certain indications, PET images.
You can find more information about our treatment techniques here.
Proton therapy
As of January 2018 we offer proton therapy for selected indications. Patients suffering from certain types of skull base tumors, such as chordoma and chondrosarcoma, are eligible for proton therapy.
For other patients, proton irradiation will be considered if irradiation with photons is associated with an increased risk of damage to the healthy organs. To determine if proton therapy is advantageous, two make two treatment plans prior to the start of your radiation treatment: one based on photon radiotherapy and one based on proton therapy. We translate both treatment plans into a probability of developing radiation-induced side-effects. Based on these results, and on national indication protocols, we determine the radiotherapy technique most suitable for your treatment.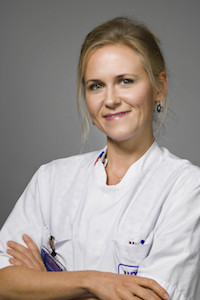 A. Bannink-Gawryszuk, MD
Specialization:
Melanoma's
Neurological tumors
Pediatric tumors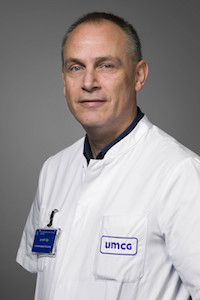 H.P. Bijl, MD, PhD
Specialization:
Base-of-skull tumors
Head-and-neck tumors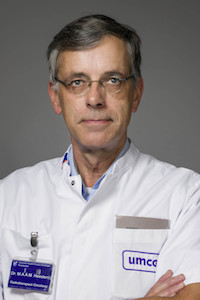 M.A.A.M. Heesters, MD, PhD
Specialization:
AVM
Brain tumors
CNS tumors (adults and children)
Pediatric tumors
Trigeminal neuralgia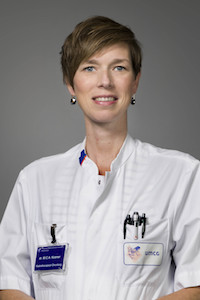 M.C.A. Kramer, MD, PhD
Specialization:
Base-of-skull tumors
Brain tumors
CNS tumors (adults)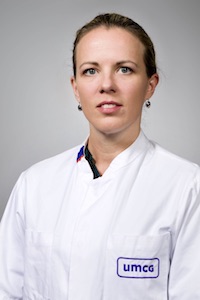 H.L van der Weide, MD
Specialization:
Brain tumors
CNS tumors (adults and children)
Pediatric tumors
Pituitary tumors
Trigeminal neuralgia

There currently are no active clinical trials.